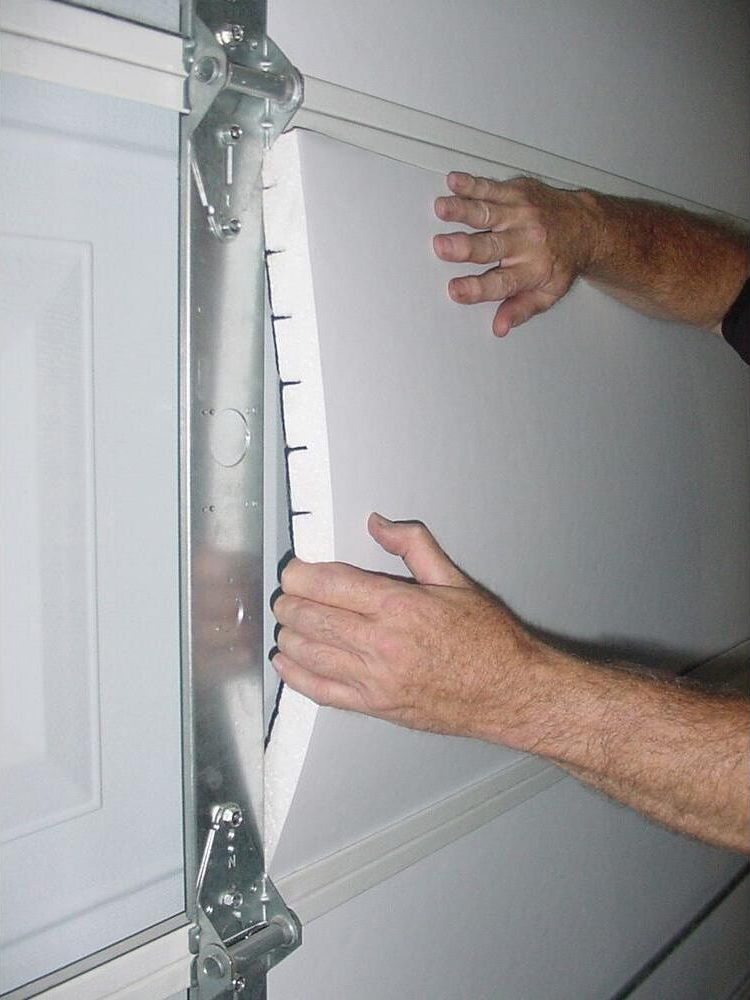 Absolutely, garage door insulation helps by adding an additional coat of protection and strength to your garage door, while also improving temperature fluctuations and enhancing your home's energy effectiveness. Whether it is the dead of summer or bitterly cold and snowing, normalizing the temperature of your garage can be a major headache, especially if you do a lot of activity out there (Shop, Gym, office, etc.)  
Does Insulating a Garage Regulate the Temperature?
Yes, insulating a garage door can make a substantial change to your garage by working as a barricade between the outside and inside temperatures. Insulating your garage door can impact the fluctuations in your garage temperatures by 10-15 degrees warmer in the winter, and 20-25 degrees cooler in the summer.  WOW!!!!
The objective of insulating your garage door is to reduce the speed of transferring heat. In the winter months, this involves slowing heat escaping your garage, and, in the summer, stopping it from entering your garage. 
If you can slow down the rate that heat moves into or out of your garage, you will also slow the rate it moves into your home. In the end, the garage door insulation temperature variation is controlled and saves you money on your electric or gas bills. If you are looking to insulate your garage door, give us a call today at 931-330-BLUE
 Blue's Coaching Ahead! 
Advantages of Insulation 
Insulating your garage door helps by presenting various advantages. 
Energy efficiency:

 This is particularly accurate if your garage is attached to a bedroom or used as a living space, workshop, Gym, office, or utility room which can make an enormous impact on your garage temperature. 

Protection:

 

Abrupt weather changes

 

can affect car batteries, fluids, and tire pressure, as well as change the consistency of paints, fertilizers, cleaning supplies, motor oil or any other items stored in the garage. 

Durability:

 Non-insulated doors are more susceptible to denting or creasing.

Noise reduction:

 Insulation stops a large amount of outside noise, such as children playing, lawn mowers, and vehicle traffic. 

Resale value:

 Because of these reasons, garage door insulation can be an additional advantage and encouragement for those thinking about buying your home in the future. 
Potential Issues of Insulation 
Insulating your garage door is not the right course of action for everyone. Some things to consider: 
Attached or detached:

 If your garage is detached from the home, there might not be much value in insulation, unless you use the garage as a livable space or workshop.

Full garage insulation:

 Is the rest of your garage insulated? If not, adding insulation to your garage door will not yield you the results you may be looking for. 

Is your garage airtight?

  Outside air can still make its way into your garage through other gaps in windows and entry doors, so you will want to guarantee these are airtight before insulating your door.
Adding Insulation vs. Buying A New Garage Door?
If you would like to add insulation to your garage door, you have 2 options: 
Add insulation to an existing door. 

Replace the existing door with a new, more insulated one.
When selecting, you will want to think about
The cost 

Return on investment. 

Condition of your existing door. 
Frequently, you will find replacement of your garage door will be a superior investment than retrofitting insulation into an older door. 
DIY Or Hire a Professional Nearby?
Do-it-yourself insulation kits are offered at your local hardware store or online. However, it is vital to realize the hazards linked with completing your own project versus hiring a professional installer.
First, a professional will be able to evaluate the insulation situation of your entire garage and establish if insulating the garage door will provide sufficient temperature control and generate a return on investment.
Second, adding insulation to your garage door might alter its weight, impact its balance, and put added tension on the springs. While it might not seem like a lot of weight, adding even a few pounds can make a large enough discrepancy and require your springs to be replaced.
To assess your door's balance, pull your manual release cord and open your door halfway. The door should stay in place, not shoot up or slam down. If the door is off-balance, it will still allow air in from the outside.
Balancing a garage door and replacing springs can be dangerous and should be left to a professional.
Contact the Best Garage Door Insulation Specialists Near You
If you are considering options for insulating your garage door, call Blue Jay Garage Doors at 931-330-BLUE, and we will offer the best and safest solution for your situation.