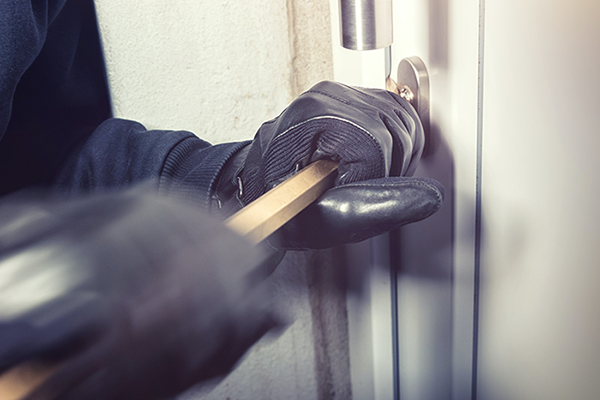 Keeping your home protected is a must in today's world. Everyone locks their doors and windows without hesitation or reservation. However, all too often, the garage is forgotten when contemplating how to keep our home safe. Sadly, burglars are mindful of this as well and usually attempt to depend on your garage's absence of protection to break into your family's home. 
Here are some suggestions to keep your garage, home, and family protected from criminals.
Don't let criminals see what's in your garage:
While the garage is a terrific place to store items you would rather not keep in your house, doing so can make you a target for criminals looking for an easy score. The first thing you should do is eliminate those objects from your garage that make your home a desirable target. Can those items go in the attic or a cabinet or just out of sight? 
While this is a great starting place, it simply may not be obtainable. 
Do not worry, there are other options as well. 
The next precaution is to make sure that the garage door remains closed as much as possible. In an ideal world, we would just close the door after each use. But life is not always possible or cooperative.  Garage door openers (like Liftmaster or Genie) contain characteristics such as "auto close," which will require your garage door to always return to the closed position minutes after use.
Congratulations! You now have your garage door consistently closed. However, there could still be a problem. Luckily, it's a simple one to fix. Do you have windows on your garage door? This can be an easy way for crooks to see into your garage, even with your door closed. To avoid this, purchase window frosting or film, cut the material to fit, and stick it to your windows.  
Make sure the burglar can't be devious:
Criminals love two things: darkness and isolation. 
 One of the simplest things you can do is install sufficient lighting for the front of your garage door. 
If there are no lighting fixtures already in front of your garage door, think about having at least one mounted on each side of the garage door's exterior. 

If there are already lighting fixtures in front of your garage door, think about changing your old light bulbs to newer, brighter LED bulbs.
Now that we've ridden the outside of the garage of darkness, we're going to ensure the thief is never alone in, or near your garage. The easiest way to accomplish this is through security cameras. Many garage door openers have cameras built into them that do not require contracts or additional money from security companies. You simply have access to the feed on your phone's mobile app.
Make certain your garage Is sealed:
A good quality seal around your garage door can make it so that crooks cannot fit fingers, hangers, and hooks into your garage which will facilitate their break-in.
The seals we're looking at specifically are on the sides and bottom of the garage door. 
On the sides, trim creates the seal between the wall of your garage, and the garage door itself. Inspect this area for tearing, fraying, sun damage, or gaps in the trim.

On the floor of the garage door, the bottom rubber creates the seal between the floor, and the door itself. First, check to make sure the bottom rubber is extending to the ground. If your door is stopping before getting to the floor, you may need to modify the constraints on your garage door opener. Also examine this area for tearing, fraying, or breaks in the rubber.
If you discover any problems with your seal or bottom rubber or need help adjusting your opener limits, give Blue Jay Garage Doors a call at  931-330-BLUE.
Make the garage harder to get into:
On a few occasions, simply shutting the garage door will not be enough. What do I mean by that? 
Non-insulated garage doors are much simpler to break into than steel-back doors. If you are considering replacing or looking to install a garage door in your new home, you should consider upgrading to a steel-back door to maximize your security. 
Struts can also be used to increase the strength of a non-insulated door. Struts are metal bars that go across your garage door, supplying added structural support to prevent bending and breaking.
Criminals may look to activate your emergency release device by slipping hangers or hooks in the middle of the panels of your garage. Hardware like the Garage Door Shield prevents this by blocking your emergency release in a body armor-like shape.
Add a lock to your door: 
T-Lock: This lock has cords in the middle of your garage, attaching to locks on the side of your door. The key access on the outside lets you manually access your lock from the outside.

Vault Lock: Usually for detached and manual garages, this lock has key access on the outside, with a cord running to your emergency release.

Auto-Lock: Typically connected to a jackshaft (Type of garage door opener), this lock will automatically secure your garage once it's closed.

Slide Lock: Sitting on the side of your garage door, this lock can slide into your track manually, to keep your door closed. 

Caution! This lock can only be accessed from within your garage.
If you follow these helpful hints, it will reduce your odds of a break-in via your garage door. If you have any questions give us a call at  931-330-BLUE