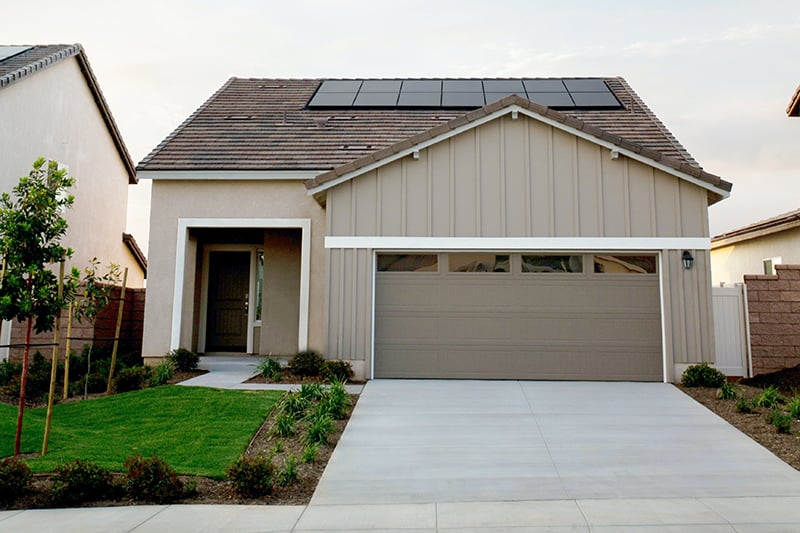 Did you know that homeowners use their garage doors more than their front doors to come and go from their houses? The average home is estimated to operate its garage door over 1,500 times per year. Too many homeowners make the mistake of not having their garage doors examined and maintained regularly. Instead, they only have the door looked over by a professional once there is a problem with the garage door. Without appropriate care, you can expect future troubles, like having your car trapped inside the garage or parts on your door becoming damaged beyond repair. These issues can lead to costly repairs. 
Keeping your garage door in proper operating condition is very easy by having your garage door serviced by a professional at least once per year. With the appropriate garage door maintenance done, you can help ensure:
A Greater Life Expectancy: Garage doors do have a life expectancy of 15 to 20 years. However, with proper preventative maintenance done regularly, your garage door — depending on the type, materials, and usage of the door — can have a lifespan of 20 to 30 years.

Safety: By keeping your garage door properly maintained, you can prevent malfunctions that could hurt someone or cause property damage.

Cost: Did you know that preventive maintenance is cheaper than repairs? At

Blue Jay Garage Doors

, we offer a preventive maintenance tune-up for just $99.99. 
What to Expect During Professional Garage Door Maintenance
While many people assume their garage door will always work when needed, without regular preventive maintenance, you may find yourself in a situation where it does not. This can lead to lost wages at work, children being late for school, and expensive repairs. Garage doors have various moving parts and several pieces of hardware that, with regular use will endure wear and tear. At Blue Jay Garage Doors we offer a comprehensive garage door tune-up to identify signs of damage and prevent problematic repairs.
During our garage door tune-up, our technician will perform the following tasks:
Visual Inspection:

 

Our technician will thoroughly look over and lubricate all moving parts, including the springs, rollers, hinges, hardware, bearings, gears, and tracks.

Removing Debris:

 

To ensure proper functionality, we'll remove any dirt or other buildup from the tracks and photo eye sensors.

Check Critical Components:

 

During your tune-up, we also look at key garage door parts, like mounting pads, cables, chain and belt, weather seals, and locks, that affect the general condition of your garage door.

Look for Corrosion:

 

While performing the tune-up, another crucial detail is checking each component for warnings of corrosion or rust that could lead to improper operations or damage.

Perform Safety Tasks:

We make sure your garage door's safety measures are properly working. We will perform a reverse test and inspect your keyless entry and other electrical devices and elements.
After your home's garage door inspection is complete, our technician will review everything with you and make any repair or upgrade recommendations if needed. Our #1 concern is your safety and will never recommend anything that you do not need. 
Preventive Garage Door Homeowner Chores
A key action for all homeowners to take to ensure the proper functionality of their garage door is to note the garage door's normal operations and pay attention to strange behavior or noises. In between garage door maintenance tune-ups, you should complete these steps:
Remove Debris Buildup:

 

Your garage is likely to have bits of garbage or other forms of dirt and debris. As you observe these accruing, remove the surplus buildup that can affect proper garage door operations.

Inspect Parts and Hardware

: With normal usage, your garage door's parts can become loose as the door moves up and down. As needed, tighten up any loose hardware, and keep moving parts like springs and chains well-lubricated to prevent rust.

Note Unusual Sounds

: While your garage door will make some noise when operating normally, take note of any

abnormal sounds

your garage door or opener makes while opening and closing.
Common Garage Door Noises to Know
If you hear any unusual garage door or opener sounds, they could be telling you that your door needs repairs or is starting to have an issue that needs attention.
Grinding:

 

This sound can denote either worn rollers or inadequate lubrication of moving parts and hardware.

Banging or Squealing

: Frequently, this influences the garage door panels themselves with either defective panels or the door is out of balance.

Ticking or Clinking:

 

These smaller sounds usually tell you that the pulleys and bearings are worn, or rust buildup has caused coils to rub together.

Straining:

 

This may mean you may have a faulty garage door opener motor, or the opener has insufficient horsepower to lift and lower the door.
Rattling:

 

Often marks a loose chain or support rails.
Blue Jay Garage Doors is here to help! 
Give us a call today at 931-330-BLUE!