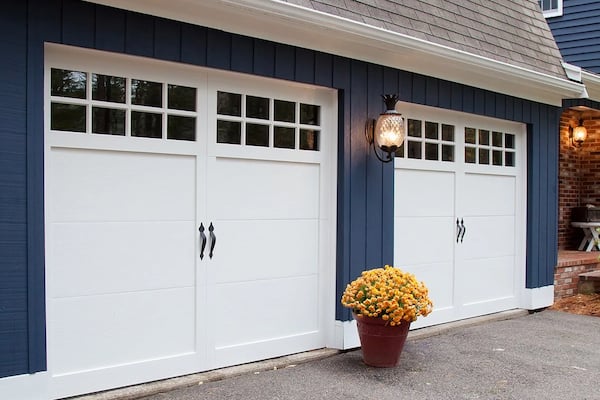 Windows can transform your garage into an aesthetically pleasing entrance to your home. If you are wondering what size garage door windows normally are, rest assured that, structurally, window inserts won't affect the stability of a garage door. Also, they come in many different shapes and sizes, so the style options are endless. To help you decide, look at the benefits and considerations. 
Five Benefits of Garage Door Windows 
If you want to improve your home's curb appeal or upgrade the exterior, garage door windows are a great option. Consider the following five benefits to see if garage door windows are the right choice for you: 
1. THEY BRING IN NATURAL LIGHT 
Garage door window inserts can offer privacy while bringing in an abundance of natural light, which is especially helpful if you have a workspace in your garage. Exposure to natural light has many benefits, including better sleeping patterns, increased focus, reduced stress, and more energy. So, if you spend a lot of time in your garage, then window inserts are a great option. 
2. WINDOW INSERTS CAN SAVE ENERGY 
Having windows in your garage can save energy. Have you ever forgotten to switch off the garage light, or do you have a workspace and constantly have your light on? Having windows in your garage door can reduce your energy costs by bringing in natural light for you to see. 
3. THEY CAN INCREASE THE OUTSIDE AESTHETIC APPEAL 
While windows on garage doors aren't essential, they can enhance your home's curb appeal. Garage door windows add a touch of sophistication that will add to the look of your beautiful home. This aspect is especially helpful if you're in the process of renovating your home to sell it, as adding matching windows to your garage door can attract potential buyers. 
4. GARAGE WINDOWS INCREASE A HOME'S VALUE 
Adding windows to your garage door can turn the space into more than just storage for your car, but a welcoming area that you can use as a game room or a workroom. Customizable window inserts also create a visually appealing aesthetic and cohesive look to your home. 
5. THEY ARE COMPLETELY CUSTOMIZABLE 
The best thing about garage door windows is that you can choose whatever design you want. The glass panels come in different shapes, sizes and colors, so your options are endless.
Should You Get Garage Door Windows? 
Choosing to install garage door windows depends on your location, budget, and goals. Getting window inserts can improve your home's curb appeal and increase value. So, if you're planning on selling or renovating your home, garage door windows can enhance the quality and overall look. 
There are a few other considerations to consider before making your decision, such as: 
Security risks: If you live in an area prone to break-ins, consider the type of window inserts you want to install. Certain planes may allow thieves to investigate your garage and break in. However, there are glass options that can limit break-ins, such as tinted or frosted glass that don't allow thieves to look in. Other options to lower the risk include additional security measures like outdoor cameras or built-in notification systems. 

Extreme weather conditions

: If you live in an area prone to extreme weather conditions, you may experience a couple of shattered panels now and then. Thankfully, replacing these panels is relatively easy. Or, if you want to prevent your windows from breaking at all, tempered glass is a great alternative insert option that is four times stronger than regular glass. 

Homeowner's association (HOA) regulations

: If you live in a complex or secure area, there might be certain HOA regulations you'll need to follow concerning styles, colors, and shapes. So, before you choose a style it's best to make sure your garage door design complies with the regulations. 

Maintenance: 

Cleaning a garage door isn't always at the top of the list, but since we use our garages every day, it's important to get rid of dirt and grime to minimize damage and keep the machinery functioning properly. If you install garage door windows, your cleaning schedule will need to include wiping down window surfaces every season to get rid of dust build-up. However, this task can be easily done using a mild liquid soap and water. 
How to Pick Garage Door Windows
Think about your goals and then choose the best type and shape of garage door windows for your home. Clear glass provides an abundance of natural light, but if you want privacy with the benefits of natural light, opting for tinted, patterned, or rectangular glass panels is your best option. Your budget also plays a part in your decision. Here are the different types and shapes of glass inserts to consider: 
TYPES OF GLASS FOR GARAGE DOORS
The first aspect to consider when choosing windows for your garage doors is the type of glass you want. Some types of glass include:
Tempered glass: 

Considered a type of safety glass if this material breaks it's safer and easier to clean up. 

Standard single glass pane: 

The most cost-effective type is a single pane of glass. 

Double pane: 

These window inserts provide some insulation and come in a variety of different types. 
The various double pane options you can select from are:
Tinted glass: 

This type of glass can come in various thicknesses and colors like shades of green, blue, or gray.

Frosted glass: 

Has a misty look and offers increased privacy. 

Patterned glass: 

Another option for improved privacy is patterned glass, which can come in many different patterns to suit the exterior of your home. 

Mirrored glass: 

This type of glass reflects the outside during the day, creating privacy while bringing in natural light. At night, however, the mirrored glass loses its reflection and becomes completely opaque. 
WINDOW SHAPES FOR GARAGE DOORS
If you are interested in installing garage doors with windows, there are several types of shapes you can choose from, including:
Colonial

Stockton

Sunset

Charleston

Madison

Prairie

Plain/Clear – Rectangle, Square & Arch

Rectangle with Grilles

Square with Grilles

Arch with Grilles

Wrought Iron Designs
We are here to help, call Blue Jay Garage Doors at 931-330-BLUE, and we'll offer the best and safest solution for your situation.