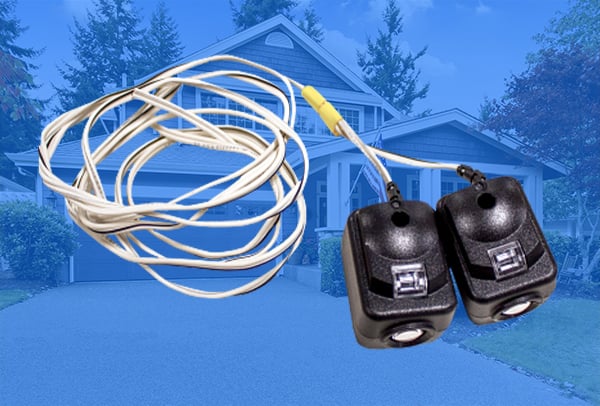 If you are not paying attention to your garage door, it is not impossible that you're missing the tell-tale signs that there are components that are more than ready to be replaced. Some are even holding on by the thread and are already slowly causing inconvenience, if not disaster.
If you think your garage door is not working anymore as it should be, then maybe it is now time for you to make assessments on what parts needed to be worked on to save your money from buying parts that still could be saved.
What is the purpose of a garage door sensor? 
Garage door sensors are garage door components that are often overlooked when they get damaged. In fact, garage door owners most of the time may not even know that they have such components in their garage doors.
Garage door safety became more important in the early 1990s. The federal government mandated that garage doors come equipped with sensors that block any obstructions from being crushed by the garage door. The sensor stops the garage door from closing once it detects something is in the way. You might have seen this if you have left something in the way like your garbage can, etc. The garage door light blinks and your garage door stops itself from closing.
Broken Garage Door Sensors 
One indication that you have broken garage door sensors is that no matter how hard you push the buttons on your garage doors and garage door remotes, your door still refuses to close. And even if your garage door goes down to close, it automatically stops mid-way and goes back to its original position or gets stuck halfway from opening or closing.
When the above occurrence happens to your garage door, it indicates that you may suffer from garage door sensors issues. But while this is a possibility – it could also be caused by broken garage door springs, among others, – it may not always mean that your garage door sensors needed to be replaced. Sometimes it just needs some cleaning as they accumulate dirt over time.
Regularly cleaning your garage door sensors using a soft cloth will easily solve this.
Garage door sensors have exterior LED. After some time, the screws that tend to keep your garage door sensors in place loosen causing misalignment between the sensors. If you encounter a blinking LED light, then the solution is to simply tighten the screws holding it into place if not bending the bracket that holds it to keep it in position.
Garage door wirings that are attached to your sensors could also cause your sensors to malfunction. For this, if you are not familiar with your garage door system then it is better to leave this to your garage door experts. Attempting to fix this on your own may just cause more severe damage to your garage doors sensors that may be a danger to you or your family.
How much does it cost to replace garage door sensors? 
If you are dealing with broken or damaged sensors, here is how much it costs to replace garage door sensors. It typically will cost around $80-$150 (depending on what sensors you chose) plus installation. It is best to have an expert install garage door sensor. Installation of a garage door sensor typically costs around $160. Maintaining your sensors after they have been installed is also important. Make sure to clean them if they are around a lot of dirt. This will help keep your sensors working like new. Additionally, do not hesitate to ask your installation expert about how to maintain and align your sensors. They can help guide you in the care of your new sensors based on the model you have purchased.
We are here to help, call
Blue Jay Garage Doors
at
931-330-BLUE
, and we'll offer the best and safest solution for your situation.