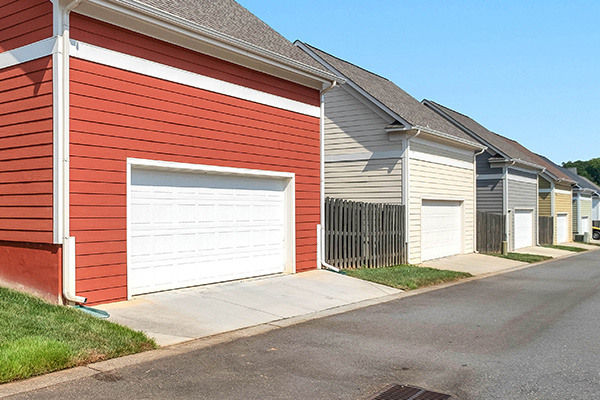 When purchasing a replacement garage door or adding one to a new home, it's important to understand standard garage door sizes. Given the variety in dimension combinations, it's difficult to label any one option as a standard garage door size, but some sizes are certainly more common than others.  Here is the standard garage door size based on height and width: 
 7-8 feet high by 8-10 feet wide for a single garage door

 7-8 feet high by 16-18 feet wide for a double garage door

10-14 feet high by 10-14 feet wide for a RV garage door
Garage Door Design Options 
The garage door size you need depends on the size and layout of your garage itself. Blueprints for garages vary from small space designed for a single vehicle to larger, standard 2 car garage door sizes, to multiple-vehicle options.
If you bought an existing home, this decision had likely already been made for you. But, when building or remodeling a home, several factors must be considered, including:
Personal preference, style, and needs are based on several vehicles.

Aesthetics and how the garage façade will affect the appearance of your home. 

Practicality and the cost of maintaining multiple doors and an opener system.
Standard Garage Door Measurements 
| | | |
| --- | --- | --- |
| | Common Heights | Common Widths |
| Single Doors | 7 or 8 Feet | 8, 9, 10 Feet |
| Double Doors | 7 or 8 Feet | 16 or 18 Feet |
| RV Doors | 10, 12, or 14 Feet | 10, 12, or 14 Feet |
Single Garage Doors Dimensions 
Suited for smaller garage spaces with room for only one vehicle, single garage doors most commonly measure either 7 or 8 feet in height and 8, 9, or 10 feet in width. The doors are suited for a single standard-sized car, SUV, truck, or van.
Two Car Garage Dimensions (Double Doors)
Homes with multiple-vehicle garages will most commonly use a double-door option, measuring 7 or 8 feet in height and 16 or 18 feet in width. This option is also popular with those planning to use a portion of their garage as a workshop or storage space.
RV Garage Door Dimensions 
Large doors are available for those with specialized needs, such as parking several vehicles or an RV. These oversized garage doors tend to be 10, 12, or 14 feet in both height and width.
Combination Garage Doors
Many homes use a combination of either multiple single doors or a single and double door. While these garage door designs offer more space and flexibility, they also require maintenance and upkeep of at least two separate openers and garage door systems.
Standard Garage Door Thickness
Standard garage door panels are roughly 1/8 inches thick. Depending on the utilization of your garage, you may or may not need insulation. If you spend time in your garage, you might consider installing insulation. Properly installed installation can keep your garage 12 degrees warmer in winter and 25 degrees cooler in the summer which can also positively impact energy costs. 
How to Measure Your Garage Door 
If you're considering purchasing a new garage door, we're happy to visit and measure your door to ensure you're looking at the right options. But, if you're the do-it-yourself type, here are step-by-step instructions for measuring your garage door and ensuring your garage can accommodate an opener and the door in both the open and closed positions.
Measure the width and height of the door opening – called the 

"rough opening"

– to the closest inch. This will be approximately the same size as your door.

Measure the space to the left and right of the opening – called the 

"sideroom."

Most vertical track systems require 3.75 inches on each side. Some systems require even more space, at 5.5 inches.

Measure the distance between the top of the opening and the ceiling – called the 

"headroom."

Standard systems require 12 inches of headroom, and most openers require an additional 3 inches of clearance.

Measure the distance from the garage door opening to the back wall of the garage – called the 

"backroom."

You will need backroom equal to the door height plus 18 inches, possibly more based on opener installation.
We are here to help, call Blue Jay Garage Doors at 931-330-BLUE, and we'll offer the best and safest solution for your situation.